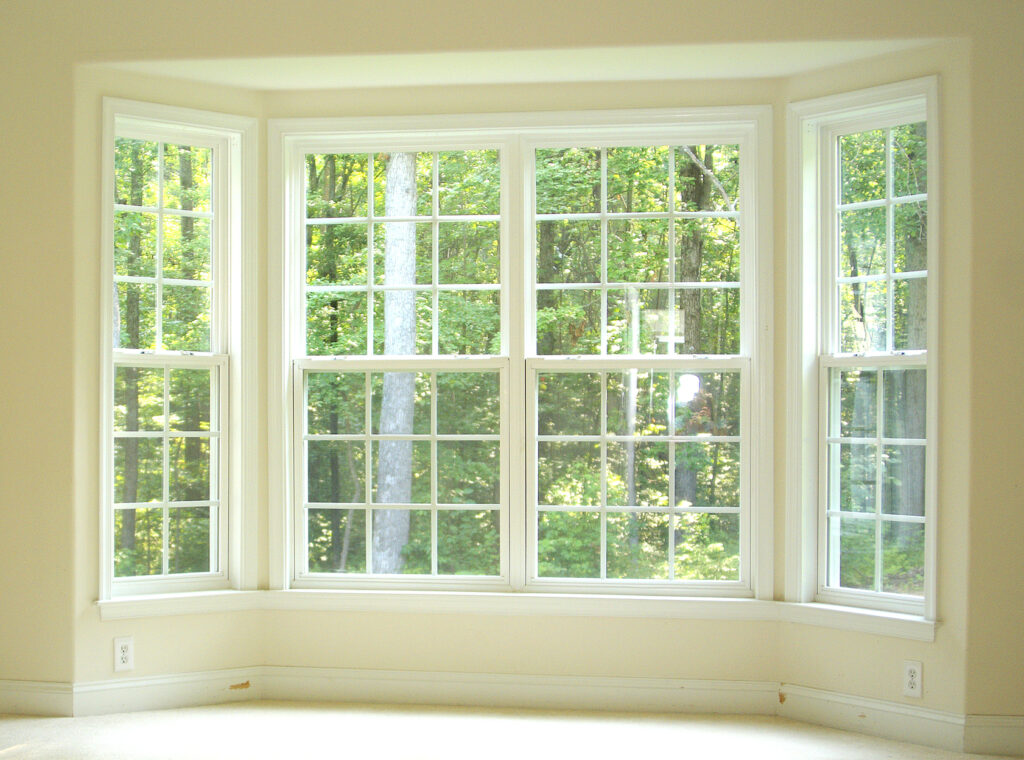 Bay windows are comprised of three windows that extend from your home. The idea behind having the window extend away from the building is that more light can be let into your home, and more of the outdoor scenery can be viewed. Due to this feature bay windows are commonly found in living rooms, master bedrooms, family rooms, and sometimes breakfast nooks.
Typically, bay windows are comprised of a fixed center window and two casement windows on the outer sides, but can also be built using a combination of windows such as hung windows.
The structural design of bay windows inherently allows them to bring more light into the living space when compared to standard fixed, hung or casement windows placed flat against a wall. Bay windows are also great for bringing fresh air into your home when fitted with casement windows on one or both of the outer sides since the extension from the wall allows the windows to be more exposed to breezes.
Originally designed with the intention of capturing magnificent views, specifically those of lake or ocean view "bays", bay windows can be an excellent addition for any home with an amazing view to be captured. Prominently featured on homes built during the English renaissance, bay windows would traditionally be placed at the end of a great hall; overlooking a bay or other picturesque viewpoint.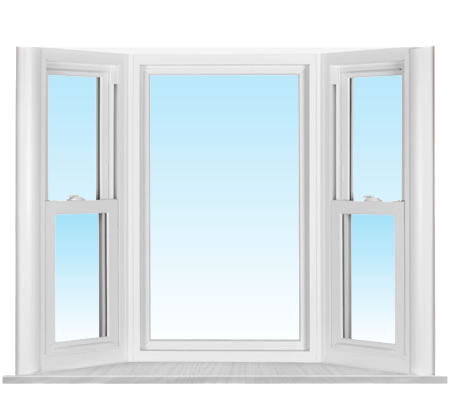 What Are The Benefits Of Bay Windows?
Add Value to Houses: These type of vinyl windows have a high artistic appeal and not only from inside the house but also from the outside of the house. Inside the house, these windows often add some space to any room together with providing a corner which is quiet for someone to enjoy some time alone studying or having a solitary moment. Outside the house, the glazed style gives the structure of the building a very clean and relatively modern look.
Bring Natural Light into any House: Apart from offering fascinating views of the outside world, Bay replacement windows bring in a great deal of natural light than any other kind of window. There is always some amount of sunlight seeping into any house because of this window.
Ventilation: Because of the fact that they are a cluster of multiple windows, these windows could be opened outwards, and homeowners can as well enjoy cool and yet fresh breezes as at when they desire.
Versatility: Bay windows were formally always found in most Victorian homes but now they can be installed in almost all kinds of modern households. Bay windows are relatively not restricted to a particular kind of room space. In fact they can be installed in bedrooms, study rooms, kitchens, and so on.
Bay Windows is a Great Storage Solution: The seating area which is around a bay window can be used as a storage space. For instance, any sofa with compartments that are hidden or a bench that is tapered with a free room under it can be used as a perfect storage space.
Efficiency That Saves You Money
We're proud to work with highly efficient window products. Bay windows from BM Windows & Doors are highly efficient; saving you money on your heating and cooling bills. With BM, you can trust that you will be receiving a quality product that performs efficiently.