WINDOWS & PATIO DOORS
DOORS & HARDWARE
WINDOWS & PATIO DOORS
Our 25-Years "4 Years Accident Forgiveness" Warranty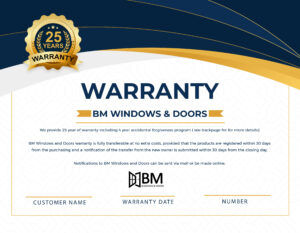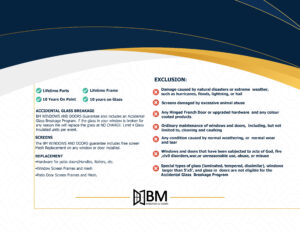 This Warranty covers all parts and labour for 25 years including 4 years accident forgivness program on products , installation and service done by bm windows and doors
BM Windows and Doors warranty is fully transferable at no extra costs, provided that the products are registered within 30 days from the purchase and a notification of the transfer from the new owner is submitted within 30 days from the closing day. Notifications to BM Windows and Doors can be sent via mail or be made online.
ACCIDENTAL GLASS BREAKAGE: The BM Windows guarantee also includes an Accidental Glass Breakage Program. If the glass in your window is broken for any reason, BM Windows will replace the glass at NO CHARGE. Limit 4 glass insulated units per event.
SCREENS: The BM Windows and Doors guarantee includes FREE LIFETIME SCREEN MESH REPLACEMENT on any window or door installed by BM Windows Inc. to the original purchaser from the date of contract.
REPLACEMENT: BM Windows warrants to the original purchaser, from the date of the contract, a Limited Lifetime Warranty for NO CHARGE replacement, when not repairable, of:
• Hardware for patio doors (handles, rollers, etc.)
• Window screen frames and mesh
• Patio Door screen frames and mesh LIMITED LIFETIME WARRANTY for LABOR and MATERIALS provided by BM Windows and Doors.
EXCLUSIONS (What is NOT covered under this warranty):
• Damage caused by natural disasters or extreme  weather, such as hurricanes, floods, lightning, or hail
• Screens damaged by excessive animal abuse
• Any Hinged French Door or upgraded hardware  and any colour coated products
• Ordinary maintenance of windows and doors,  including, but not limited to, cleaning and caulking
• Any condition caused by normal weathering, or  normal wear and tear
• Windows and doors that have been subjected to acts of God, fire,civil disorders,war,or unreasonable use, abuse, or misuse
• Special types of glass (laminated, tempered, dissimilar), windows larger than 5'x5', and glass in  doors are not eligible for the Accidental Glass  Breakage Program
THERE ARE NO IMPLIED WARRANTIES OF MERCHANTABILITY AND/OR FITNESS FOR A PARTICULAR PURPOSE CONTAINED HEREIN. THERE ARE NO WARRANTIES OF ANY TYPE OR NATURE WHICH EXTEND BEYOND THE DESCRIPTION ON THE FACE HEREOF.
TO OBTAIN COVERED SERVICE: If you believe you have a claim covered by this warranty, contact BM Windows and Doors.
by email at office@bmwindowsanddoors.ca, or by phone at (647) 444-2816.
PROPER CARE AND MAINTENANCE
FRAME CLEANING:
• Vacuum dirt from the sill and track areas before washing.
• Clean window and door frames with a mixture of mild dish soap and water.
• Abrasive or caustic cleaners or solvents are NEVER recommended.
• Always rinse completely with clean water and wipe dry.
DRAINAGE SYSTEMS:
• Check to make certain the drainage or "weep holes" are always clear of dirt, stucco, sand or building materials, both inside and outside the window or door in the bottom of the frame.
• It's normal for water to accumulate in the sill or track area with wind driven rain. The water is intended to drain to the outside as water builds up or outside pressure subsides.
• Keep sill or track areas clean of dirt or debris.
• Use a small, soft bottle brush to clear openings.
GLASS CARE:
• Clean glass with mild dish soap and clean water.
• Avoid washing glass in direct sunlight.
• Never use any petroleum-based cleaners or caustic chemicals on your glass.
• Never use a razor blade, putty knife or abrasive pad to clean the glass.
• Never use a high pressure spray nozzle when rinsing your windows and doors after washing.
• Abrasive or caustic cleaners are NEVER recommended because they might cause permanent damage to the finish/coating or the glass.
SCREENS:
Clean screens by first removing, then washing on a flat, clean surface with mild dish soap and water and a very soft brush. Rinse, wipe dry and reinstall.
CONDENSATION & MOLD:
• Condensation can be a natural occurrence in the home.
• Check all windows and doors for airtight seals.
• Open windows and doors whenever practical to allow interior moisture to escape.
• Regularly use ceiling fans to circulate the air.
• Use exhaust fans in rooms with high humidity (bathrooms/kitchen).
• Use dehumidifiers to reduce the amount of moisture inside homes with high humidity.
KEY DO'S AND DONT'S
DO: Clean the frame surfaces.
DON'T: Use a razor blade, putty knife or abrasive pad.
DO: Use a glass cleaner or mild dish soap.
DON'T: Use any petroleum-based cleaners or solvents.
DO: Clean tracks and "weep holes."
DON'T: Use oil-based lubricants.
DO: Check weather stripping and hardware.
DON'T: Live with poor performing components.
DO: Clean your insulated glass with proper cleaning agents.
DON'T: Add attachments to the glass or frame without approval from window manufacturer.
DO: Choose CERTIFIED (NFRC/AAMA) window and door products.
DON'T: Settle for products that do not meet important water, air infiltration, structural and thermal performance standards.
DO: Read and understand your manufacturer's warranty and install per AAMA/ manufacturer's instructions.
DOORS & HARDWARE